Delicious Raspberry Jam
posted on 25.02.2015 14:50 hour
Did you know that cooking jam in a copper pot will give you much better results in taste, color and quality than preparing this culinary delight in normal iron or stainless steel pots? Plus, you don't even need to add jam sugar - copper does the gelling for you!
It's true! I had the pleasure of tasting the self-made raspberry jam of Cosima, the wife of my boss, who cooked raspberry jam in one of our fine copper pots. Believe me, the difference is astonishing! The color came out beautifully and the taste is really highly addictive to me. I just couldn't get enough!

Therefore, I would really love to share this recipe with you, the most aromatic and tasty raspberry jam I have ever eaten: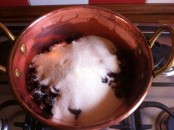 Cosima used fresh, sun-ripened raspberries from the garden nearby and removed the seeds by passing the raspberries through a cloth strainer. If you would like to leave the seeds in your jam, feel free to skip the before-mentioned step.

Now the sugar (no jam sugar needed!) is added to the raspberries – ca. 800 g per 1 kg fruit – and the mixture has to rest in the copper pot for approximately one hour. This will intensify the aroma and facilitate the gelling process later on. The mixture is now ready to be warmed up carefully in order to avoid scorching of the fruits and has to be stirred continuously with a wooden spoon. Please don't use metal spoons as they could damage the copper.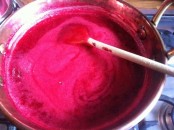 To test the consistency simply apply some of the jam on a cold plate and let it cool down. If the mixture is thick enough, stir the jam several times and fill it in glass jars while it's still hot.
Please prepare the glass jars properly before filling in the jam to avoid contamination with unwanted bacteria. Cook the jars and lids as well as the filling funnels in a large pot with boiling water for at least 7 minutes. Now it is safe to fill the jars with jam! You just need to close the lids and place the glass jars upside down to cool off the mixture and to preserve the jam.
And there you go! Your self-made raspberry jam is ready to be served. I guarantee you will enjoy every bite!